The Island Sailing Club's annual big meeting had, this year again, kept its promises : 1200 competitors, including 6 Class40, came to participate in Round The Island Race (theorical route : 51nm).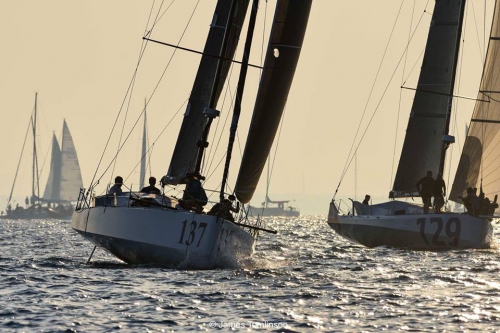 © James Tomlinson
If it was a sunny day, the wind was very light, which made difficult the first section of the route between Cowes and The Needles. Not easy for the records !
Indeed, the record in the Class40 category on this race set in 2013 (Al Bucq #124, 5 hours 38 minutes 14 secondes) is still the record ! Jack Trigger and his crew needed, this year, 9 hours 57 minutes and 58 secondes to tour the island and win !
In the Vintage category, Fortissimo's crew is the first.
General ranking
1. Concise 8 (GBR129) – Jack Trigger – 9 :57 :58
2. Phorty (GBR137) – Sam Goodchild – 10 :23 :52
3. Sensation Extrême (FRA140) – Marc Lepesqueux – 10 :43 :24
4. *Fortissimo (GBR97) – James Close – 10 :46 :13
5. Concise 2 (GBR93) – Simon Costain – 11 :03 :37
6. *Sensation Class40 (FRA26) – 11 :29 :04