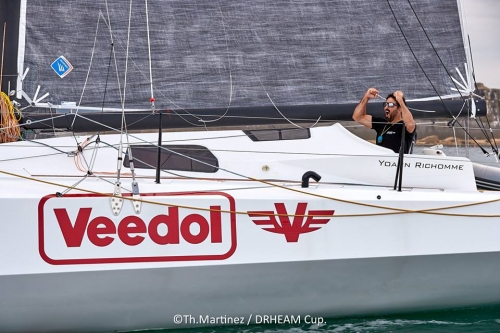 Thierry Martinez / Drheam Cup
General rehearsal before the Route du Rhum destination Guadeloupe, the Drheam Cup destination Cotentin kept its promises : 29 Class40 at the start (and 29 on the finish line), more than 730nm of solo-handed race between La Trinité sur Mer and Cherbourg en Cotentin through the Fastnet and various weather conditions.
Left from Quiberon Bay on Monday July 23rd in just 5 knots of wind, the Class40 fleet had to do with the freaks of wind : after 24 hours of calms, the wind gradually increased until almost 30 knots around the Fastnet.
Yoann Richomme (Veedol #154) is the first to round the famous irish lighthouse, followed by Phil Sharp (Imerys Clean Energy #130), Aymeric Chappellier (Aïna Enfance et Avenir #151), Luke Berry (Lamotte Module Création #153) and Sam Goodchild (All in for the Rhum #137) : only for of the 9 IMOCA still in race rounded before them the Fastnet.
This is the same top 5 in Cherbourg.
Yoann Richomme is thus the first to cross the finish line after 4 days 2 hours and 7 minutes on his Lift40 launched only one month before ! Phil Sharp on his 2013 Mach40 is second, Luke Berry third.
To note, 4 Vintage participated in the race. For his first solo-handed race, Cédric de Kervenoael (Grizzly Barber Shop – Cabinet Z #61) wins, followed by François Lassort (Bijouteries Lassort – Tonton Louis #42), Jacques Valente (Destination Evian #31) and Arthur Gascoin (UP Sail & Connect #91).
General ranking
https://www.class40.com/fr/courses/182-la-drheam-cup-destination-cotentin.htm