In short
11 Class40s lined up on the starting line of this 1802 nm race on Sunday August 12th but only 5 of them crossed the finish line.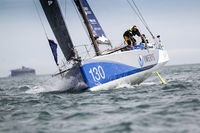 Despite several technical problems and with hard weather conditions, Phil Sharp's Class40 Imerys Clean Energy has taken line honours in the 2018 Sevenstar Round Britain and Ireland Race in an elapsed time of 8 days 4 hours 14 minutes 49 seconds. The team - Phil Sharp, Julien Pulvé, Pablo Santurde and Sam Matson - also smashed the previous record in that race for yachts 40ft or under by 15 hours (subject to ratification). Thanks to this result Imerys Clean Energy reach the top of the 2018 Class40 championship.
Jack Trigger, Oliver Mellor, James Dodd and Jamie Diamond, the youngest team, arrive second on Concise 8 (#129), less than 6 hours after the winner and after 8 days 10 hours 39 minutes and 8 seconds.
Charles-Louis Mourruau, Gérard Atkins and Loïc Coudret, The lost boys - # 101- complete the podium in 9 days 9 hours 45 minutes and 43 seconds.
The first vintage, Fuji #38, skipped by Ari Kansakoski, Sakari Kalse, Rosemary Nunn, Jan Paukkunen, Jukka Hyytiä, Perttu Monthan and Stépahne Bry Davies, arrives in 5th position.
The ranking