In short
11 skippers took part in this solo race opened for the first time to the Class40s with a program similar to the Imocas and their trophée Azimut .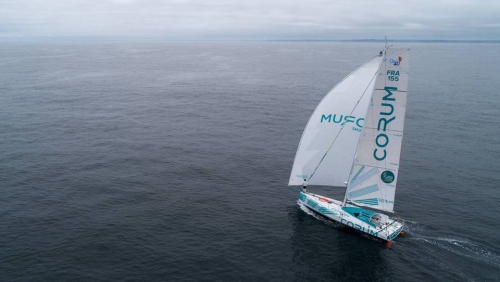 The start of this 120 nm race from and to Lorient was given on Friday 21st of September in the evening. Maxime Sorel (V and B #144) and Romain Rossi (Fondation DigestScience #131) gave up but for the others, this race with its various weather conditions was a good training for Route du Rhum destination Guadeloupe.
On arrival, Nicolas Troussel, winner of the race, confirms that it was a demanding race because he was forced to constantly adapt to the very changeable wind.
A course around Groix was planned on Sunday but was finally canceled because of the weather but that has not stopped the most challenging teams from sailing!
Ranking
Nicolas Troussel (Corum #155)
Louis Duc (Carac #150)
Yoann Richomme (Veedol #154)
Luke Berry (Lamotte – Module Création #153)
Jonas Gerckens (Volvo #104)
Pascal Fravalo (One4Sail #141)
William Mathelin Moreaux (Beijaflore #113)
JB Daramy (Chocolats Paries – Coriolis Composites #109)
Arthur Gascoin (Up Sail and Connect #91)
ABD Maxime Sorel (VandB)
ABD Romain Rossi (Fondation DigestScience)