In short
If the start of the Route du Rhum was actually given on Sunday December the 4th, the first week of the race took the boats in an unpredictable scenario.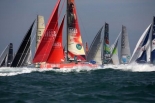 If they left Saint Malo in a pleasant breeze, several low pressure systems were awaited. About the half of the fleet decided to go ahead, laying low and trying to protect the man and the boat while the others decided to seek shelter in French or Spanish ports.
On Sunday 11th, It's time to take stock: 6 skippers gave up (Sam Goodchild, Nicolas Troussel, Arthur Gascoin, Sébastien Desquesses, Bertrand Delesne and Sébastien Marsset). 3 are still in technical stop (Jean Galfione, Carl Chipotel and Claire Pruvot). 44 skippers were still in the race before Maxime Sorel's dismasting.
In the lead for several days, Yoann Richomme and his Lift40 Veedol AIC are really impressive but nothing is decided yet! There are only 200nm between the first and the 7th (Yoann Richomme, Phil Sharp, Aymeric Chappellier, Kito de Pavant, Arthur Le Vaillant, Luke Berry and Antoine Carpentier) and, at 2000nm from the finish line, it should lead to a great battle for the victory!
To note also the Michael Hennessy's performance on Dragon. He is 10th at the moment and first vintage among 9 engaged on this transat!