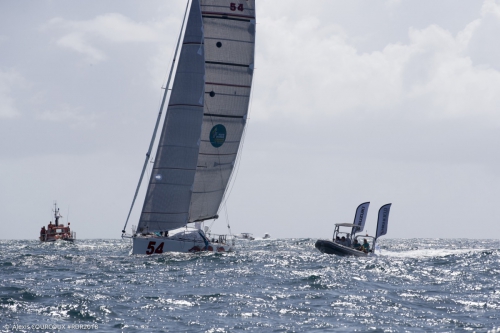 Alexis Courcoux #RDR2018
Dragon (#USA 54) is the first Vintage Class40 in Pointe à Pitre !Her skipper, the American sailor Michael Hennessy fulfilled his long time sporting dream when he crossed the finish line of the 40th anniversary Route du Rhum-Destination Guadeloupe transatlantic race to take 12th place in the 53-strong Class40 division.
A 52-year-old financier from New York, Hennessy sailed his Owen Clarke-designed Dragon across the finish line off Pointe-à-Pitre at 16:18.46hrs UTC to complete the 3,542-nautical mile course from Saint Malo in Brittany in a time of 21 days, three hours and 18 minutes.
As a young sailor, Hennessy was inspired by images of French legend Florence Arthaud winning the 1990 Route du Rhum, the first woman to triumph on the classic transatlantic course, and they have remained etched on his memory.
"When she finished first that was an iconic moment for me. Then I started to do some distance racing and then the last four years have been all planning. I feel fantastic," he said.
Having served his time becoming an accomplished solo and short-handed sailor in American waters in Class 40s, participation in the Route du Rhum has been Hennessy's ultimate goal almost since he bought Dragon 10 years ago.
Looking tired but happy as he brought his far 40-footer alongside the dock in Pointe à Pitre, Hennessy said: 
"It was a long race, there was a little bit of everything and a lot of a few things. And those few things were pretty brutal.
"It is a tough race but very, very rewarding and fantastic to get in. I am absolutely thrilled with 12th. I never thought I would break into the top-20. There is something to be said for a tough boat…and, I suppose, a tough skipper.
"We - myself and the boat - have seen a lot of what we had before but not for such an extended period of time. It is such a great race. 


"When the closest ground is 20,000 feet under your feet and your boat is jumping off huge waves in 50 knots then that is hard going. But I have persistence on my side. I knew I could this," concluded Hennessy.
The American not only demonstrated his tenacity and determination as a racer over the past 21 days, he also proved an excellent reporter from the water as he shared his experiences in regular updates from the nav station on Dragon.
Source: Andi Robertson / Route du Rhum