In the early hours of Thursday 21 February, after two and a half days and nights of intense competition and over 600 miles of racing, it all came down to just a few minutes.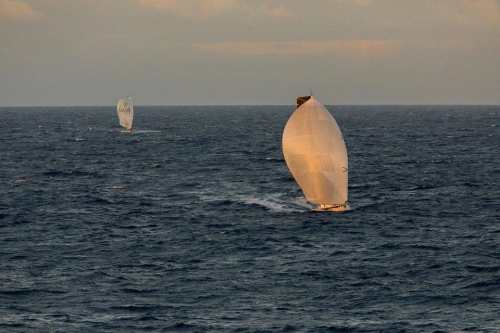 RORC Caribbean 600 / Tim Wright
Catherine Pourre's French Class40 Eärendil won Line Honours for the Class40 Division for the second year in a row, this time defeating two of the rising stars of offshore racing, crossing the finish line on 21 February 01:01:15, in an elapsed time of 2 Days 13 Hours 45 Mins and 50 Seconds. Hammering around the course was not enough; guile and tenacity also played their part.
"That was stressful, Eärendil was not the quickest on some of the legs, so all three of us were battling and winning the lead all the time," commented Catherine Pourre. "Eärendil is a little bit older than the others that challenged for the win, but essentially they are similar in design. The key factor was having the right sails for the different legs. If you change, it may take half an hour, but if you don't change you can lose more than that. It was match racing all the way, especially at the end and we were really under pressure all of the time. Last year we were battling against the elements, this year we had really good competitors that we could see all the time. It was an intense battle which never faltered day or night. Aymeric (Chappellier) and Luke (Berry) both sailed with a team of four and we went with five. I did not think I could compete physically with these tough young guys. Although we were a bit heavier, I am glad we made the choice and the crew were just as impressive as last year."
Aymeric Chappellier's Aïna Enfance Et Avenir was second by just 3 minutes and 20 seconds.
"It was an incredible race, a good fight on the water," commented Aymeric on arrival. "All three boats were close all the time, there was never time for a rest as we had to think about strategy and manoeuvres. Eärendil made less mistakes than us, they played a good game and they are worthy winners. Our next race will be Le Défi Atlantique and the '600 has been a great way to get the crew together and to get everything right on the boat. We have had a few breakages and the race has been a good test of the new equipment installed after the Route du Rhum.
Luke Berry's Lamotte - Module Création was less than five minutes from victory:
"An amazing race and a great speed test for us. We were trying lots of different sail combinations and as Aymeric and I train together in Lorient it was like a big training session for two and a half days - absolutely amazing. I did get a bit cold at sometimes but the weather is very pleasant. Well done to Eärendil; we all got our bit of glory in the lead, but Eärendil won the last battle and did very well. Personally, in the Route du Rhum I got overtaken rounding Guadeloupe and exactly the same thing happened in the '600! But anyway, this has been great fun and a really good preparation - bring on Le Défi!"
Complete results : https://www.class40.com/fr/courses/186-rorc-carribean-600.htm
Source : http://caribbean600.rorc.org/News-2019/class40-fight-to-the-finish.html