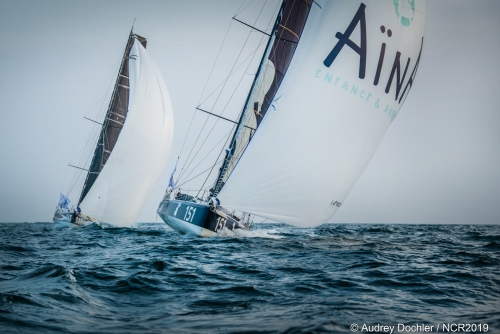 Audrey Dolcher / NCR 2019
Just 10 hours was all that separated victory for Aymeric Chappellier and Pierre Brasseur on Aïna Enfance et Avenir from 11th placed Franz Bouvet and Sylvain Michelet on Yoda, who closed the finished line late afternoon yesterday. A scenario that perfectly reflected this 10th edition of the Normandy Channel Race, which was coloured by suspense at every level of the playing field, in a tightly grouped fleet with an action-packed storyline that rounded off with two fabulous sprint finishes: one for victory just 1 minute ahead of second-placed Eärendil, the other for the final podium place, which ultimately went to Cape Racing Yachts, just two minutes ahead of 5th placed Rêves.
This year, the technical nature of this racecourse was much in evidence once again and there was no shortage of superlatives uttered by the skippers on their arrival in Ouistreham yesterday: "A very fine race, super intense. It was great to be in close contact the whole time. […] The format is fantastic with incessant jockeying for position!" stated Emmanuel Le Roch, skipper of Edenred just as he set foot on dry land. Pierre-Louis Attwell, the former Figaro sailor also speaks highly of the race: "Tremendous event! […] There was absolutely everything to play for, there was just a constant stream of boats from last to 3rd place, almost reminiscent of a Solitaire du Figaro format. An incredible experience!" A format renowned for its numerous tricky passages, which enable a regular reshuffling of the cards, this year's edition was no exception. Indeed, with the help of the light airs, the fleet remained very compact, offering spectators and skippers alike some magnificent duels right to the wire.
So why refer to a sprint finish when the latter started on day two and the exit from the Solent? Well, in reality it was a 5-day match race posted by the two leaders of this 10th Normandy Channel Race. Aïna Enfance et Avenir and Eärendil were never more than 2.5 miles apart throughout the course, alternately taking control of the fleet whilst battling it out in a relentless duel. Aymeric Chappellier and Pierre Brasseur ended up crossing the finish line as race champions thanks to a lead of just one mile over the brilliant Italo-Hispanic duo of Pietro Luciani and Pablo Santurde del Arco. And the suspense would last right till the very end of the race. The German-Norman duo of Jörg Riechers and Cédric Château on Cape Racing Yachts made a superb competitive debut on their new steed to secure 3rd place after an incredible match race over the last 30 miles of the race with Beijaflore et Rêves, the latter respectively taking 4th and 5th place, with just over 2 minutes separating the 3 duos. It's a result that proves that despite a slightly restricted fleet in this transition year, the competitive standard of this international event just gets better and better with every edition.
It is no surprise then that the Normandy Channel Race has become a great classic in Normandy and the ocean racing landscape as a whole thanks to all the above ingredients, which make this event such a unmissable part of the Class40 event schedule. A unique course, an international standard, incredible sporting clashes and true Class40 spirit are just some of the elements that lure the sport's specialists back to the English Channel and the Celtic Sea every year.
Source : Sirius Evenements
The general ranking
https://www.class40.com/fr/courses/184-normandy-channel-race-.htm