In short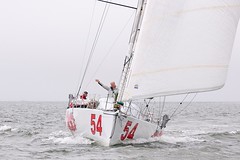 After 3 days 21 hours and 50 minutes and more than 700nm solo-handed, Dragon, skipped by Michael Hennessy, wins the first leg before Marchus Cochran (Marauder # 39) and Sam Fitzgerald (First Light # 37) in Bermuda.
Two more boats registered : Pivateer #102 skipped by Jonathan Green arrives in fourth position and Kyle Hubley #25 Impulse did not finish.
Rendez-vous on Thursday June 20th for the start of the second leg, in double-handed from Bermuda to Newport.