In short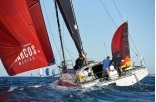 The start of the Morgan Cup was given on Friday June 21st. 3 Class40s were competing in this race between Cowes and Dieppe.
Manic, skipped by her new owners won the race after 19h 45mn and 4sec.
Partouche #150 is second 18 minutes later and Boogie down #115 third after 21h and 14 minutes.
Eärendil #145 is still the RORC annual championship leader.