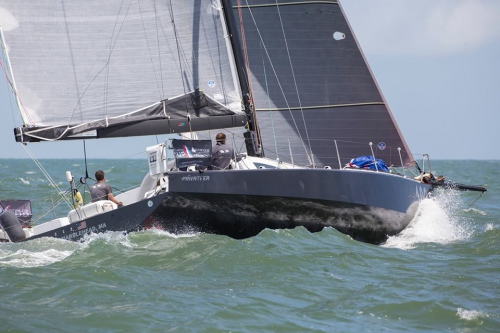 ©Billy Black / Atlantic Cup 2018
The race consists of two legs. The first leg is sailed singlehanded from Newport, Rhode Island, to thefinish line off St. George's, Bermuda, by any course. The start has been given on June 8th.
The second leg is sailed doublehanded from St. George's to the finish line off Newport, by any course. They left on June 20th.
Results Leg 1
1. Dragon (#54) – Michael Hennessy – 92h 50min
2. Marauder (#39) – Marcus Cochran - 92h 59min
3. First Light (#37) – Sam Fitzgerald - 93h 13min
4. Privateer (#102) – Jonathan Green - 94h 07min
DNF – Impulse (#25) – Kyle Hubley
Results Leg 2
1. Privateer (#102) – Jonathan Green & Jeffrey MacFarlane - 76h 07min
2. Dragon (#54) – Michael Hennessy & Rob Windsor - 82h 46min
3. Marauder (#39) – Marcus Cochran & Daniel Ditch - 88h 26min
4. First Light (#37) – Sam Fitzgerald & Allie Gray -103h 35min
DNC – Impulse (#25) – Kyle Hubley & Cole Williams-Brauer
General ranking (combined elapsed)
1. Privateer (#102) – 170h 14min
2. Dragon (#54) – 175h 36min
3. Marauder (#39) – 181h 25min
4. First Light (#37) – 196h 48min
DNF – Impulse (#25)