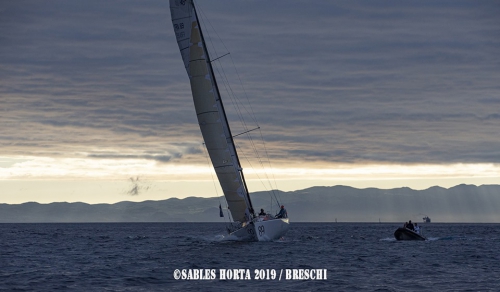 © Sables Horta 2019 / Christophe Breschi
The 13 Class40s participating in the 7th edition of Les Sables Horta arrived on Faïal Island last Friday. After more than 3 days at full speed – the 24h record has been approached – the 26 skippers have been stopped by the famous Azores High 50 milles before the finish. And, after 1200nm of race, only 16 hours separated the leader from the last to arrive.
They will leave for Les Sables d'Olonne this Friday for the second leg. To note, five skippers will change.
Leg 1 results
1. Volvo #104 (Jonas Gerckens / Benoit Hantzperg) : 5j 16h 39min 21sec
2. Aïna Enfance et Avenir #151 (Aymeric Chappellier / Rodrigue Cabaz) : 5j 16h 51m 53s
3. Beijaflore #154 (William Mathelin-Moreaux / Amaury François) : 5j 17h 13m 54s
4. Eärendil #145 (Catherine Pourre / Pietro Luciani) : 5j 19h 35m 57s
5. Cré'actuel #148 (Vincent Leblay / Bertrand De Broc) : 5j 20h 22m 56s
6. 1er Vintage - Prendre la mer, Agir pour la forêt (Mathieu Claveau / Christophe Fialon) : 5j 20h 36m 28s
7. 2ème Vintage – Grizzly Barber Shop – Cabinet Z (Cédric de Kervenoael / Nicolas Boidevezi) : 5j 21h 43m 36s
8. Colombre XL (Charles-Louis Mourruau / Estelle Greck) : 6j 00h 26m 28s
9. SOS Méditerranée (Pascal Fravalo / Guillaume Goumy) : 6j 00h 28m 09s
10. Chocolats Paries – Coriolis Composites (Jean-Baptiste Daramy / Alexandre Hamlyn) : 6j 00h 34m 20s
11. 3ème Vintage - Bijouteries Lassort – restaurant Tonton Louis (François et Thomas Lassort) : 6j 01h 13m 38s
12. UP Sailing – Unis pour la planète (Morgane Ursault-Poupon / Rémi Lhotellier) : 6j 04h 42m 05s
13. Des Voiles et Martin (Martin Louchart / Frédéric Duchemin) : 6j 08h 44m 58s