In short
Sunday August 3rd, 19 Class40s lined up, in Cowes, for the famous Rolex Fastnet Race.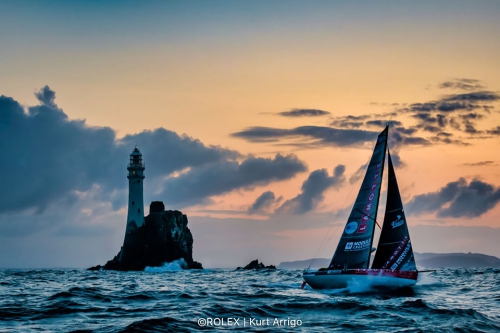 @ Kurt Arrigo
Several teams led this 2019 edition which was very competitive.
If Cédric de Kervénoël, Nicolas Boidevézi and Sylvain Chanteloup (#61 / Cabinet Z) were the first to get out the Solent, William Mathelin-Moreaux, Marc Guillemot and Amaury François on Beijaflore (#154) rounded first the Fastnet rock Monday in the early morning.
But finally, Luke Berry and crew (Corentin Douguet, Frédéric Denis and Arnaud Berland) Lamotte-Module Création (#153) crossed the finish line first, in Plymouth, after 2 days 11 hours 13 minutes et 22 seconds only minutes before Beijaflore !
Catherine Pourre, Pietro Luciani, Alberto Riva and Tommaso Stella on Eärendil (#145) complete the podium.
The ranking : https://www.rolexfastnetrace.com/results/2019/rfr-class-forty02.html
Order at Fastnet rock : https://www.rolexfastnetrace.com/results/2019/rfr-class-forty01.html