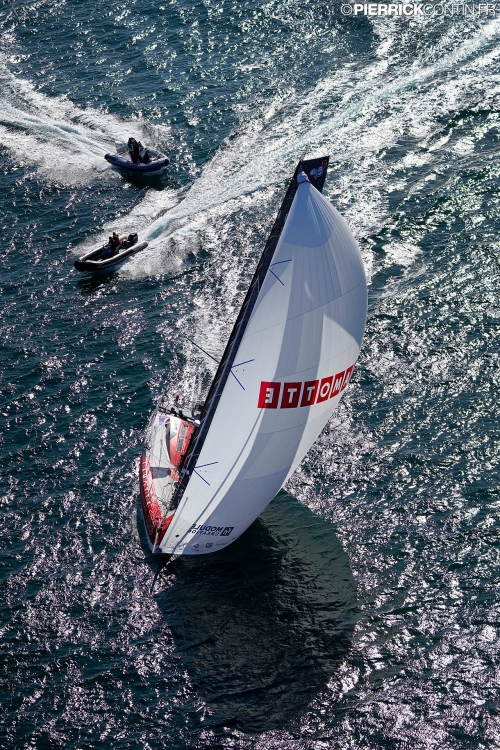 © Pierrick Contin
The 13 duets left Saint-Malo at 12h08 under the sun on Friday and crossed the finish line of the 40 Malouine SACIB after a bit more than 20 hours.
The winners, Luke Berry and Tanguy Le Turquais on Lamotte-Module création led the race from the start despite a stop due to a trap on the bulb. They arrived 14 minutes before Louis Duc and Aurélien Ducroz (Crosscall Chamonix Mont-Blanc). Jörg Riechers and Cédric Château (Imagine) complete the podium.
Cédric de Kervenoael and Nicolas Boidevezi won the vintage ranking finishing 7th overall.
Tanguy Le Turquais : « We had a good start, and we raced as planned, good strategy and speed ! When we got the trap, at 22 pm we were 4 miles ahead the second and despite the fact that we had to dive we stayed in first position ».
Luke berry : « We had a good speed even if some things have to be improved, that was cool. It was a good training for our goal : the Transat Jacques Vabre. Now, we are a bit tired, only 15 minutes sleep for each of us and we haven't eaten much…we were in ! »
The ranking :
1. Lamotte Module Création – Luke Berry & Tanguy Le Turquais – at 9h22 am
2. Crosscall Chamonix Mont-Blanc – Louis Duc & Aurélien Ducroz – at 9h36 am
3. Imagine – Jörg Riechers & Cédric Château – at 9h42 am
4. Manic – Ian Hoodle & Jack Trigger – at 9h53 am
5. ADPS – Marc Lepesqueux & Edgard Vincens – at 9h56 am
6. Vogue avec un Crohn – Pierre-Louis Attwell & Calliste Antoine – at 10h18 am
7. Cabinet Z Grizzly Barber Shop – Cédric de Kervenoael & Nicolas Boidevezi – at 11h00 am
8. Rennes / Saint-Malo Mer Entreprendre – Thibault Hector & Clément Commagnac – at 11h05 am
9. A chacun son Everest – Yves Courbon & Renault Courbon – at 11h09 am
10. Teranga – Christophe Rateau et Sylvain Pontu – at 11h13 am
11.#AttitudeManche – Martin Louchard & Frédéric Duchemin – at 11h19 am
12. Equipe Voile Parkinson – Florian Gueguen & Raphael Auffret – at 12h02 pm
13. Yoda – Franz Bouvet & Danielle Vanhove – at 12h33 pm
RDV tomorow morning at 10h30 for the first warning signal of the the first (over 2) coastal race fully-crewed.