In short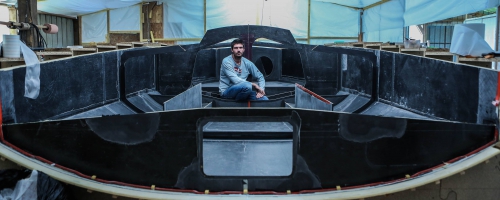 And three!
This week it was Axel Tréhin, a newcomer to the Class40, who announced the construction of a Class40.
"Just a few months ago, I didn't even dare dream about it. So today, it's with a lot of emotion that on this day, which is a bit special for me, I can finally officially announce it: I'm embarking on the construction of a Class40 to take part in the Route du Rhum 2022!
I'm lucky to be accompanied by some extraordinary people with whom we've decided to move forward, to believe in the future and in this project which honours the incredible work of the volunteers of Project Rescue Ocean. In order to allow this beautiful boat to see the light of day, I'm going to make some of the parts myself - so I hope you're not fed up with stories from the shipyard, because I intend to share with you the whole gestation of this new bird.
But if I want to take the start of the races that have always made me dream, I still have to meet the partners who will find themselves in this new story and the values it carries. So more than ever, if you want to give me a little help: share this video, talk about it around you, contact me to discuss it... The door of my shipyard is wide open, and I'm always enthusiastic when it comes to talking about beautiful boats, oceans to explore, and exciting new adventures!"
source: https://www.facebook.com/axeltrehinskipper/