In short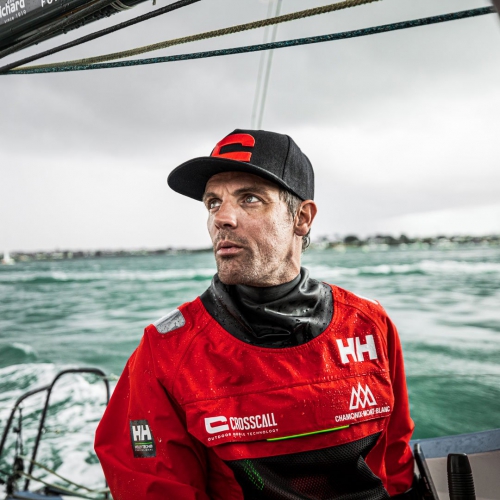 © Crosscall Chamonix Mont-Blanc
CROSSCALL is committed for the next three years alongside the double Freeride World Champion and skipper, Aurélien Ducroz. Objective, the Route du Rhum 2022! An audacious project which will be materialized by the construction of a boat with CROSSCALL's colours and which will lead the brand and its ambassador in the greatest ocean races: the Transat Jacques Vabre in 2021 and the Route du Rhum in 2022.
United under the flag of the Crosscall Sailing Team
After a first successful experience during the 2019 Transat Jacques Vabre, it was natural for CROSSCALL to be present when the double world champion in freeride skiing presented him with his new project: to be at the start of the next Route du Rhum aboard a high-performance boat.
His boat, Aurélien Ducroz imagined it to be innovative and high-performance with sustainable materials. Values shared by CROSSCALL which, since its creation 10 years ago, has made the lifespan of its products a priority.
3 years is the duration of the commitment that CROSSCALL takes today with Aurélien through this partnership. Through this project, CROSSCALL wishes to be part of the world of sailing in a sustainable way and to promote its products to amateurs and professionals of the discipline as well as to all adventure enthusiasts.
From the mountains to the sea, a challenge made for Crosscall and Aurélien Ducroz!
For this major challenge, Aurélien wanted to go further by fulfilling the dream of all sailors to "build their own boat". After a 5th place in the last Transat Jacques Vabre, CROSSCALL and Aurélien Ducroz now want to go further and perform together. A project that testifies to the relationship forged in recent years between the brand and its ambassador and the common desire to write a unique story between sea and mountain. 3 years of partnership that promises to be rich in emotions and adventures for the CROSSCALL SAILING TEAM which will be joined very soon by other partners.
"The Route du Rhum... yes, I'll do the Route du Rhum!"
After a career at the highest level in ski-freeride (double world champion / 4 times winner of the Verbier Xtreme), Aurélien Ducroz set himself an unusual challenge 10 years ago: to set out to conquer the oceans, always with the same quest for performance and surpassing oneself. Very quickly accepted by his peers, the man from Haute-Savoie surrounds himself with the best to progress and perfect his skills. At sea and in the mountains, what drives them is to surpass themselves and brave the elements around them. After 3 Tour de France à la Voile and 5 transatlantic races, Aurélien is now setting himself the ultimate challenge: to reach Pointe-à-Pitre single-handed during the Route du Rhum 2022. A first for the skipper, who will be aiming for the best places in the rankings.
source : crosscall.com/objectif-route-du-rhum-2022