In short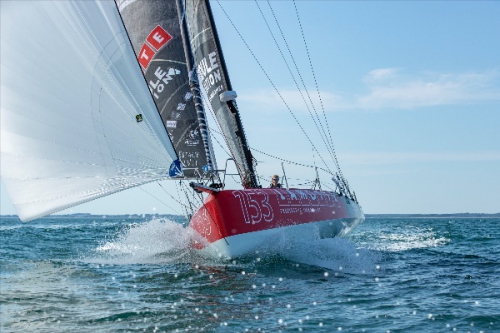 © Pierre Bouras
This Saturday, July 11th, Luke Berry, Gilles Louvigne and Guillaume Chevallier set off aboard the Class40 Lamotte-Module Création on the SNSM Record course.
Their main objective was to beat the record held since 2008 by Wilfried Clerton: 1 day 23 hours 2 minutes and 52 seconds. The second objective is to arrive in St Malo before Olivier Magré's Mach 40.4, just launched, which started on the same course a few minutes earlier.
The trio crossed the start line off St Nazaire on Saturday at 9:35 pm and crossed the finish line in front of St Malo on Sunday night at 2:58 am. It thus improved on the previous record by 17 hours and 39 minutes, setting a new reference time of 1 day 5 hours 22 minutes and 59 seconds.
It should be noted that the Mach 40.3 of 2018 is a few minutes ahead of the last born of the class, thus achieving its double objective.
Luke Berry: "We just had a great 29 hours on the water. It feels good to get back into competition mode with this record, to beat it and win the duel with the new Mach N°160. It's true that at first I was a bit apprehensive about going up against the new Mach 4 because they have a little more reaching ability. Afterwards, they took their boat in hand so they may not have had all the controls, but we managed to keep them on the long tack in Southern Brittany of around 100 miles during which we had up to 25 knots of wind on reaching. It was really interesting. We found a good configuration with our Mach 3. Above 20 knots of wind we were flying constantly," said Luke.
"We had summer conditions for a record, not necessarily the ones you think of most for a record, but it was really interesting in the end. We went very very fast along Southern Brittany, we tacked several times yesterday in the rocks to avoid the current on the northern Finistère part and, as soon as we passed Bréhat, we tacked again to reach Saint-Malo. We're setting a new reference time and I hope that's going to put more people on the record. It's a good start to the season and we're looking forward to the DRHEAM CUP next week!
To redo the race a little bit, we started just behind the Class40 E Leclerc and we had a technical problem right away. The attachment point of the spinnaker head broke and the sail fell completely in the water. We saw the race take off but we finally managed to get everything back on board without any damage. We set out again to chase the 160. We spent some time with them during the night and they passed us again when we arrived in the West of Sein, there must have been the same gap as at the start so we were very happy. Then it was all about speed and upwind knitting in medium air so I think we had a slight advantage in terms of speed. It was especially nice to fight against Corentin Douguet and the Magré family, there was a real duel to knit in the rocks, something Corentin knows how to do with his experience as a Figaro sailor and single-handed," said the skipper.
Source: https://www.lukeberry-sailing.com/courses/record-snsm-nouveau-temps-de-reference-?fbclid=IwAR3lJeF6ov58gq3dZcc8cLNuKzLDRBnQYFTeUCH7qhTPHqJ3eEDbX8Pjj7o