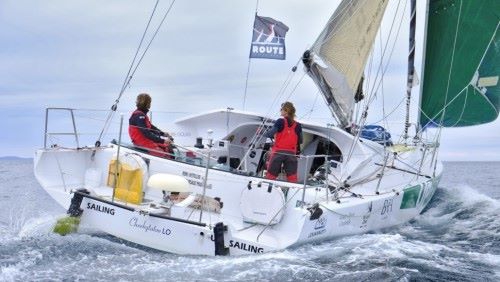 The « Pure Ocean foundation » and the association « la Route Saint-Pierre-et-Miquelon » had the great idea to create the « Route Saint-Pierre-Lorient – Défi Pure Ocean ». This is not a new race but a record, a challenge, which, in addition to the sporting dimension, is intended to support an awareness campaign on the importance of the ocean and the threats to its health.
In 1987, on the return leg of the famous Lorient Saint-Pierre Lorient race, Eric Tabarly and his crew set a reference time of 10 days 1 hour and 31 minutes on their 80-foot yacht "Côte-d'Or", between the French archipelago of North America and the Breton city.
This year, 2 teams decided to embark on this 2150 nm route : Jean pierre Dick and his crew on a 54 feet monohull « The Kid » and Morgane Ursault Poupon and Rémy Lhotellier on her Class40 « UP Sailing – Unis Pour la Planète », who will therefore set the first time in our category.
The boat crosses the starting line on Saturday, July 18. On the program, many beautiful animal encounters : « Since our departure and as usual, we are attentive to the animals we meet. One hour ago, Rémi saw a small shark of about one meter long, which was running along the boat. This encounter was too quick to precisely identify the animal. On the Newfoundland bank we had seen humpback whales several times. Every other day we see dolphins. Maybe we are going too fast for them, but they haven't come to play with the boat yet, or they are too busy hunting. We also saw a small group of pilot whales. And every day we see birds. In St. Peter's we enjoyed watching puffins and little penguins (torda, I think). In the open sea, we often see several species of petrels. We saw some Northern Gannets. And there's a nice species that we often come across, I think it's an Arctic Gull.
I have the feeling that these cool latitudes are more conducive to the observation of marine life than during a transatlantic crossing from the West Indies. (...) With David Sussmann and the Pure Ocean team, we are using animal identification and pollution tracking applications (such as drifting fishing gear) during this challenge : Fisk&Click and OBSenMER. "Good news": except for a crate and a piece of plastic, no other pollution was observed, contrary to our passage to Bermuda during our ascent, where we saw floating rubbish every day..." wrote Morgane on July 24th before adding, the next day: "Today several groups of dolphins came to play with the boat. Just like the sun, I missed their "contact". This July 25th, we were spoiled, the sun and the dolphins accompanied us for a long time! Two species had fun racing with Cheekytatoo (my boat's christening name) and showing us their power with some pretty spectacular jumps! Common dolphins and blue and white dolphins, 3, 4 and 5 individuals in three distinct groups, 2-3 hours apart. Species accustomed to our metropolitan latitudes, we were able to identify them thanks to the OBSenMER application. As usual, we recorded the time and position and took some pictures.
Rémi and I are fortunately surprised to see that these higher latitudes are more frequented by cetaceans and birds, compared to the latitudes usually borrowed during a return transatlantic crossing : West Indies-Açores. (In the Azores archipelago, on the other hand, there is a superb marine fauna...).
The duo arrived in Lorient on Monday 27th July after 8 days, 21 hours, 3 minutes and 52 seconds at sea, a new time to beat on this course for the Class40s.