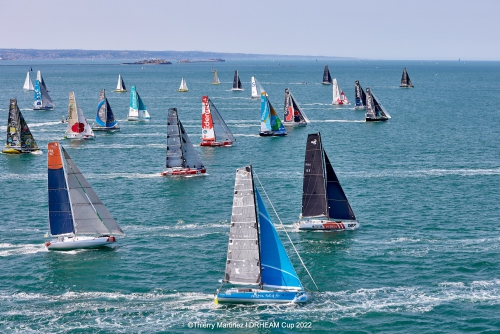 © Thierry Martinez / Drheam Cup
In the end, 34 solo sailors set off yesterday, Sunday 17th July 2022, on the 1000nm course offered by the Drheam Cup - Grand prix de Course au Large.
Single-handed training, qualification for the Route du Rhum destination Guadeloupe or a race in its own right, each with their own objectives but with one common goal: to arrive in La Trinité sur Mer this weekend.
The competition began with a crossing of the English Channel to the south coast of England and the "Shamble West" mark. Then the competitors will sail around "Wolf Rock" (at the south-western tip of England) and the famous Fastnet Rock. This will be followed by a long phase further offshore to Rochebonne, before heading back up towards the Morbihan. "It's a great route, very complete, with coastal phases in the currents, and moments further offshore. I hope to complete the course in five days. This race is going to be rich in lessons because for the moment, I have only spent one night at sea alone on my new boat", explains Luke Berry.
"There are a lot of competitors and we are really close together. But what's nice is that it's a game," said Ian Lipinski this morning after a long reaching leg to Portland Island.
Maxime Cauwe: "The weather conditions were very changeable and I took the wrong option by favouring the wind offshore rather than sheltering from the current in Plymouth Bay. As a result, I lost a few places, but don't forget that we've only done 20% of the route, so there's still time to recover.
"The start yesterday was incredible. It was very emotional, leaving the pontoon in Cherbourg was very moving. I had a big lump in my stomach which took a long time to disappear. On the start area I was very concentrated not to make any mistakes, with all the boats around, mistakes happen quickly. Fortunately everything went well, the start was given, it was wonderful to see all these beautiful boats around me. I played it safe and started a little bit behind the others. At the first mark, I would have had to put up a spinnaker to be in the match with the best but I preferred to play at my level. Not having had much opportunity to train on these manoeuvres, I preferred to anticipate and put up a gennaker, which was easier to handle, and above all, it was the sail to have in the next 30 minutes", says Victor Jost.
To follow the race : https://yb.tl/DrheamCup2022