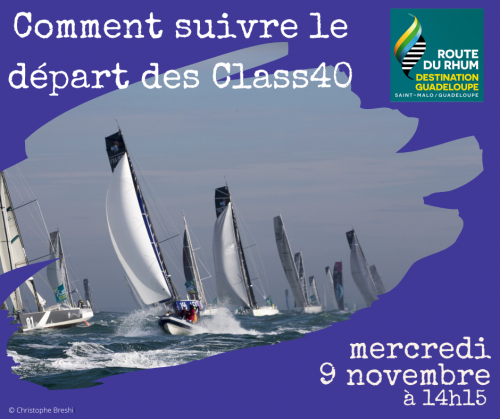 Departure from the Vauban basin
The fleet of 55 Class40s will leave the basin in two stages. Twenty-eight of them will leave the pontoons at 08:00 to take the lock at 08:20. An hour later, the second half of the fleet will do the same (departure from the pontoon at 9am, lock at 9.20am).
All of them will wait at sea until the start of the departure procedure.
Social networks
- Facebook (Live ) https://www.facebook.com/routedurhum.officiel
- Twitter (Live + live tweet) https://twitter.com/RouteDuRhum
- Instagram (Live) https://www.instagram.com/route_du_rhum/
- Youtube (Live) https://www.youtube.com/channel/UC0h7XNXNzA8D7RlobIRa-3A
TV: live from 13.25 to 16.00
- Broadcasting in more than 120 territories (Europe and international)
- France: start on France 3, France 2, L'Equipe, TF1, BFM TV, Infosport+, Eurosport France, Tébéo, Tébésud, NA TV, Ouest France, Sportall...