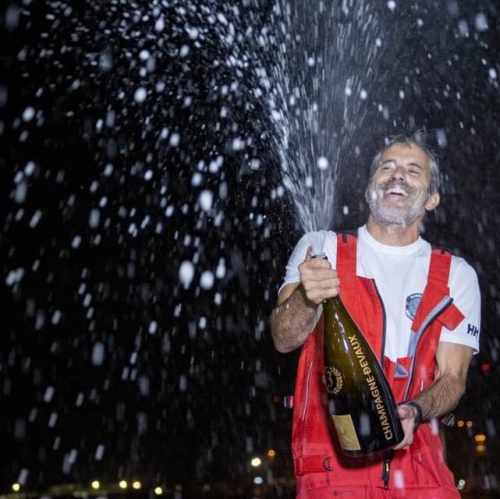 © Alexis Courcoux / #RDR2022
They sailed together, helped each other before the start, fought in the Atlantic before one took the advantage over the other. Yoann Richomme (Paprec Arkea) and Corentin Douguet (Queguiner Innoveo), share a particular friendship and rivalry Yoann won the Route du Rhum, Corentin became the Class40 champion of the year. Their thoughts.
A very high level fleet.
Corentin Douguet : « It's great, it had everything we love about ocean racing. It's a great mix between boats that are both incredibly efficient and very fast. The fight on the water is at great all the way through the fleet since there are people and boats at all levels. It's great to be involved in this period. »
Yoann Richomme : « The engagement was very high. It was like the Solitaire du Figaro in the first week. There were a dozen good skippers at a very good level. Some have impressed me, like Mathieu Claveau (Inter Invest), Ambrogio Beccaria (Allagrande Pirelli) and Xavier Macaire (Groupe SNEF). There was a great fight until the Azores, very full on and intense. »
Tough strong boats
Yoann Richomme : « I had almost no damage to my boat. A cleat, a block and beyond that next to nothing. I inspected the boat several times but nothing to report. It's solid! Admittedly, there were other breakages elsewhere but we faced really tough conditions against which we never normally sail in. To not break stuff you need a really very high level of preparation, especially for new boats coming out straight out of the boatyard. But overall it demonstrates the seriousness and the level of professionalism that top sailors put into their project. »
Corentin Douguet : « Apart from my engine issues, I haven't had any structural problems. The boat could now sail back the other way! They are faster but quite uncomfortable violent boats. We see forces and loads we did not know about, impacts, areas to be reinforced. With the emergence of these scows, we realize that these are boats that demand a lot more than we first thought. »
A grueling effort.
Corentin Douguet : « These are very hard boats to race on, really violent. It is a constant level of hardship and suffering. Everything is difficult: there is mad loud noise, it goes fast but it slams hard. The fact that two boats dismasted in the 2nd front gives an idea of the impacts. It never stops, upwind and downwind. Everything slams and bangs all the time. But we live with it and I always hear when someone talks to me. Each great solo race involves drawing even deeper into one's resources. It's an extreme sport: it hurt us little and it takes time to recover. »
Yoann Richomme : « It was really hard. I feel like I have tinnitus in my ears, I didn't take strong noise cancelling headphones. It was hard and honestly, I even had to slow the boat sometimes, especially when approaching the fronts. In terms of sleep management, I was really exhausted several times, especially in the first week. And we had not worked out much on the places to sleep in the boat. It was very nice to sleep in and it didn't help to limit yourself to a short nap! »
The emergence of Ambrogio Beccaria.
Corentin Douguet : « He's a very good sailor with a very good boat. We knew he had a lot of talent and every time he gets on a boat, he goes very well. We did not know much about his boat, we had no doubt that it would be potent. It's not a surprise to find him getting second. »
Yoann Richomme : « He put a lot of pressure on towards the end, he was coming back like a rocket. When you see his age, the project he has and the way he ran it we know he is going to be up here pushing to the top for a long time. »
Technical perspectives.
Yoann Richomme : « It's the details that matter. There has been a big progression in hull designs so that the boats are more powerful but they don't go over the sea as well. You have to succeed in combining power and design to make it work best in the sea state. For example, we took an awful lot of water over the deck. The challenge for designers now is to avoid this. For other things, bits and pieces, it's difficult as everything is well refined and optimized. »
Corentin Douguet : « I don't want to go into details, especially if I'm doing a Class40 again! (laughs) We reach a stage where we suffer in terms of comfort. It's up to everyone to see what they learn and where they go, but comfort can be a factor in performance. There are a lot of details and ideas to improve it. If I were to do an new boat tomorrow for a Class40 program, it would be significantly different. »
Further development of the class.
Corentin Douguet : « Generally now there is a slow down time in terms of boat orders after each Route du Rhum. But it seems as if the order books are full and the yards continue to build boats. So there is no obvious slowdown and 2023 will be a busy year, the Transat Jacques Vabre line-up will be big and high level. In the medium term, the class will remain ultra dynamic! »
Yoann Richomme : « The formula is good: crossing the Atlantic in 12 days, only 2 more than the IMOCAs, it is a good rule. This is the entry category for major offshore races. It has its place as a fleet, as a technical class that attracts top-level racers. I don't think it needs to evolve (especially on the issue of foils). It is a really positive aspect that the boats are easy to handle. And then there is a real race, a substantial fleet: these are real strengths for the future. »
The Class40 ranking of 2022
1- Corentin Douguet (Queguiner-Innoveo)
2- Xavier Macaire (Groupe SNEF)
3- Antoine Carpentier (Redman)
The complete ranking : 2championnat2022.pdf (class40.com)