News
It will be the most represented class this coming Sunday, June 23rd, in Saint Nazaire. 11 Class40 will be part of the 51 competitors who will cross the line of the Record SNSM, 2013 edition.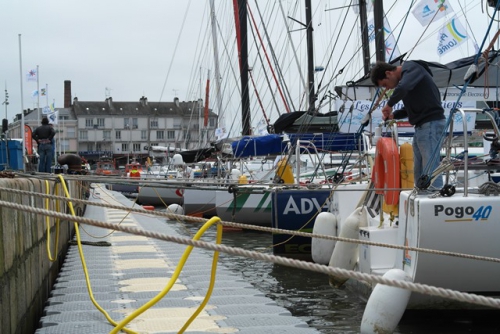 Since the strat af the season, members of the Class40 Association were not able to resist to the sea fever and meet once again to compete in this race of the official calendar. Born from an initiative to support the National Lifeboat Institution, this event gathers the main sailboats of the ocean racing: G-Class, Imoca, Multi 50, Multi 2000, Class40 and IRC. In 2013, the Record SNSM. also invites other water sports practitioners, rowers and light sails, to come join in this security celebration on a course of 7 nautical miles towards the Saint-Marc beach.

For this 8th edition of the event, the Class40 favorites will be present to sail a 230 nautical miles course between Saint-Nazaire and Sainte-Marine (Bénodet) via Yeu Island. Teams such as Campagne de France (Nb 101) and its very experienced crew Halvard Mabire and Miranda Merron, will be joined by skipper Brieuc Maisonneuve ; Sébastien Rogues and crew on board GDF SUEZ (Nb 130), successful this year on the Grand Prix Guyader and Armen Race; or the faithful duo Fabrice Amedeo and Armel Tripon on Geodis (Nb 81). We can expect Lord Jiminy (Nb 119), ERDF-Des Pieds et Des Mains (Nb 111), Phoenix Europe-Carac (Nb 65) and Deltacalor (Nb 105) to also play in front of the fleet. Less experimented crews will try to create the surprise. It's the case of Eric Darni in search of experience on board Ecoelec (Nb 10), Antoine Michel on his vintage Class40 SETTI Ltd (Nb 57), or La Belle Équipe II (Nb 55) of Bruno Retzelny. Class40 will also have the pleasure to count among its ranks a champion in his field, double Ski Freeride World champion Aurélien Ducroz, skipper of Latitude Neige/Longitude Mer (Nb 30). Aurélien is pleased to sail again on this well-known boat on which he has crossed the Atlantic during the last edition of the Quebec-St Malo.

The SNSM invites the public to join them from Friday, June 21st at the Saint-Nazaire basin to come to admire the beautiful sailboats and on Sunday 23st, to attend the start of the race. It's also possible to follow the race directly on the official RecordSNSM website and its social networks. (Facebook and Twitter).