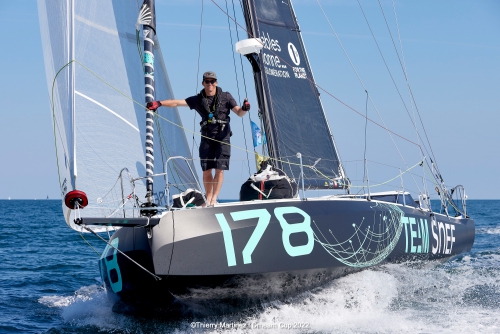 © Thierry Martinez / Drheam Cup
The Class40s were kept waiting on Thursday 22 July, as the wind decided to test the nerves of the competitors at the end of the great battle they had fought on the 1,000 mile course from Cherbourg-en-Cotentin.
Xavier Macaire (Groupe SNEF) was the first to cross the finish line in La Trinité sur Mer. If he had let Antoine Carpentier (Redman) pass the Fastnet in front of him, the Pogo S4 #178 played at the front from the start. "I had a great start. I kept a good position during the Channel crossing and then I positioned myself well along the English coast. I had a good speed, I passed Land's End in the lead. Antoine Carpentier managed to get past me at the Fastnet, which I rounded in second place, I fell in the soft conditions when I had a lead, I was disgusted but that's fair enough.
Then I had a great time making my boat work on the descent towards Brittany, it was sport, we had some great starts! I made two good moves: a good gybe off the coast of England which allowed me to position myself well and take a small lead, then another on landing in Brittany thanks to which I increased my advantage over my pursuers. I analysed the water well, I positioned myself well and that allowed me to increase my lead. After that I stayed focused to make the boat work well. The end was very long, I had very little wind..."
They said
Amélie Grassi (5th): "I'm exhausted, I've never put so much pace into a race before. We had all sorts of conditions and often the wind was not very stable so it was difficult to rest if we wanted to stay in the game. The naps were short and rather isolated. We really had to keep at it! I'll remember this first solo passage of the Fastnet, it was well deserved! I didn't really know what to expect and I'm obviously pleased to have been in front all the time! I had good speed, I managed to hold the positions, I was in the right moves too. I am really satisfied with my race! We won't lie to each other, my start of the season was complicated. And mentally, when situations like that arise, it's not very comfortable. So I approached this regatta with more detachment, hoping to find some lightness and pleasure to be on the water and here it is! I've had a lot of fun and I've also put in a good performance, which is great!"
Jonas Gerckens (21st): "Above all, I had to finish this Drheam Cup to validate my ticket for the big event in the autumn. And that's done! 1000 miles which were far from a long quiet river for all the competitors (capsizing, broken rudders and other sail losses). For me, there were some good phases but mostly bad ones, some good tacks but mostly bad ones. Most of the time, ocean racing is hard (especially single-handed). It's hard 24 hours a day (even more so with the Scows - the model for the Volvo164), a certain violence that makes it a constant challenge, such discomfort that you wonder how you can still go willingly! But there is that spark, that moment of ecstasy that, in a completely illogical way, makes you say that it was still good !!!! The Volvo164 and I will be at the start in Saint Malo in November for the worst but above all for the best.
Axel Tréhin (6th): "It will take some time to digest this race and to learn all the lessons, but what is certain is that the problems at the start of the race were well managed so that we could really take advantage of the return leg from Ireland, which was a really good trial run for the Route du Rhum - Destination Guadeloupe 2022."
General ranking: Route du Rhum destination Guadeloupe - Class40