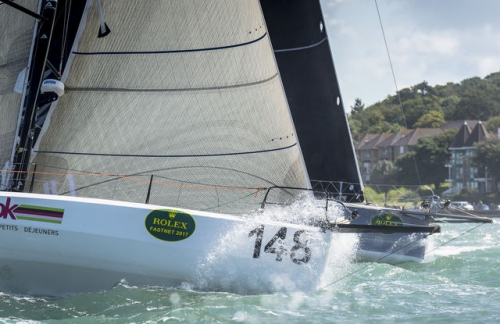 © Kurt Arrigo
20 Class40s registered in the Rolex Fastnet Race, a 608 nm race, fully crewed, between Cowes and Plymouth via the Fastnet rock.
Once again, diversity will be the key word : amateurs vs pros, first generation boats vs new ones, several nationalities (FRA, GBR, SUE, USA, GER, ITA, NOR…), several women among them 3 skippers.
The race will start at 12h45 local time (13h45 french time) and will be livestream on the RORC social networks : https://www.facebook.com/RoyalOceanRacingClub/
RDV next week-end to dicover the name of the 2019 winner !
Quick reminder
2017 – V and B – Maxime Sorel – 3 days 3 hours 22 minutes 27 seconds
2015 – Tales 2 – Gonzalo Botin – 3 days 09 hours 17 minutes 22 seconds
2013 – GDF Suez – Sébastien Rogues – 3 days 03 hours 18 minutes 30 seconds
2011 – Initiatives /Alex Olivier – Tanguy de Lamotte – 3 days 14 hours 17 minutes 28 seconds
The Crews
https://www.class40.com/fr/courses/194-rolex-fastnet-race.htm
Cartography
https://www.rolexfastnetrace.com/competitors/race-documents/fleet-tracking